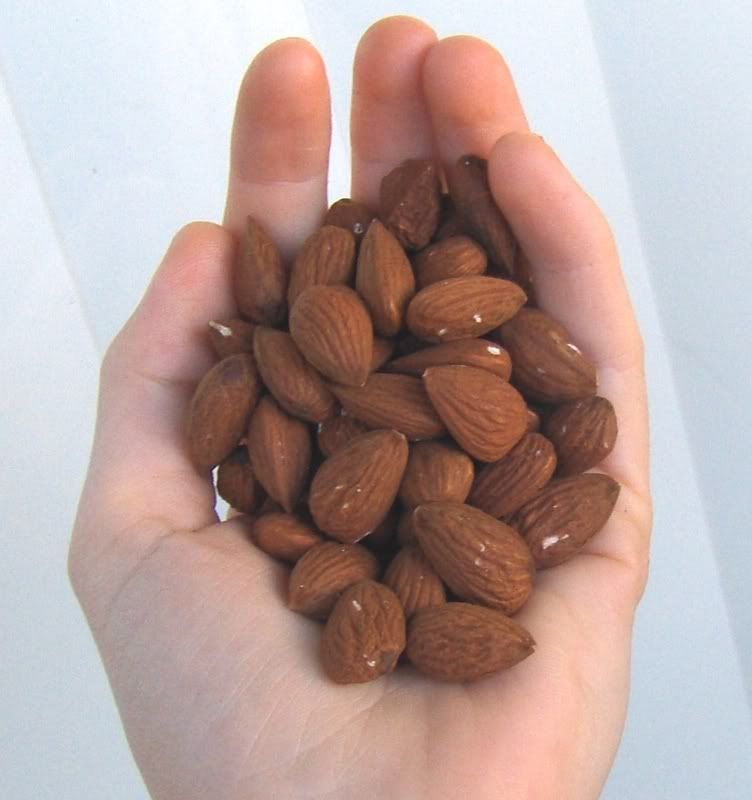 Fresh, raw, shelled almonds – perfect for food storage – delivered right to your door for $4.00 per pound.
California's almond trees have just been harvested, and it's a bumper crop! Almonds should be on anyone's top 10 list of most-nutritious foods. Almonds are not only wildly nutritious and a fantastic fresh source of Vitamin E and fiber, they're also lower in fat than all the other nuts. When you soak truly raw almonds, they sprout and are nutritionally worth 200% to 500% more: they double in fiber, and minerals, vitamins, and those all-important enzymes go through the roof! Enzyme inhibitors are neutralized and the almond's plant energy is released—for you to use. This item should be in everyone's pantry. These shelled almonds are FRESH OUT OF THE TREE and will be good for at least one year at 70°F and even longer in cold storage, refrigerated, or frozen. This is a perfect item for food storage.
If you order 25 pounds or more and you live in Utah, Salt Lake, or Davis counties, I will deliver your order to you for free. (I will take one Saturday after the order comes in and deliver them all that day.) The minimum order size is 10 pounds. Delivery of orders from 10-24 pounds will be 25 cents per pound, or you can pick them up at my home in Utah County. (Go in with your friends to make a 25 pound order!) I will include a booklet with instructions for soaking almonds (similar to sprouting) for maximum nutritional benefit, as well as a collection of recipes including almond milk, almond paté, chocolate almond torte, crispy almond snacks that kids will love, and many others.
Unfortunately, you can't get truly raw almonds from any retailer, unless they're $8-$12 per pound from Spain. Not Costco, not Good Earth, not Wild Oats, not Azure Standard. It's been illegal since September 2007 for California to sell raw almonds to retailers, and California produces 85% of the world's almonds—it's the state's largest agricultural export. For that you can thank the mandatory high-heat, flash-pasteurization law that the FDA is currently being sued for, by a coalition of almond growers. Some nuts are labeled raw (because no restrictions on this are imposed by the government), even though they are flash pasteurized and WILL NOT GERMINATE.
These almonds come directly from a ranch in California. The September 2007 flash-pasteurization law allows you to buy 100 pounds per person, per day, directly from the rancher. Not only are these nuts truly raw, but they are less expensive than the flash pasteurized nuts you can get in local stores. There are 25-27 nuts per ounce. The picture you see here shows smaller nuts (30-32 nuts per ounce) from the same ranch. Yours will be a bit bigger and nicer!
Leave me a comment or email me. Since we're talking finances, I'll be glad to give you my phone number, but email me first!
I will accept checks, money orders, or Paypal. I need to receive your payment by October 29th (Paypal payments must be cleared by that date).