This is my grandfather - Herb Ruth.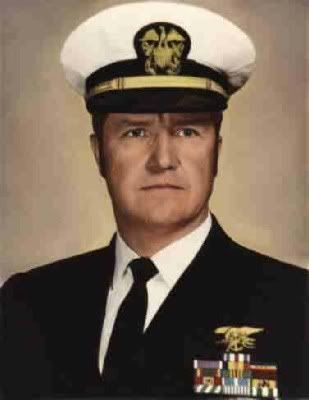 Herb joined the Navy in 1947, at age 17. He served for 4 years, left for 4 years, then re-entered. In 1964, he trained at the Naval Amphibious School in Coronado, California, as a member of UDT-R Training Class 32. He was the second oldest individual to be accepted into the training program at the time. He served as a Navy UDT/SEAL with UDT-11, SEAL Team One, and SEAL Team Two.
During his time in the Navy, Herb served in Korea and Vietnam and received numerous awards. He retired from the Navy in 1976. My
uncle's website
gives more details, stories, remembrances, and pictures and was the source of my information. (The site is newly under construction, so some pictures and content are still missing.)
After retiring from the Navy, Herb worked as a truck driver and then was a Utah Highway Patrolman (UHP). He suffered a heart attack in May 1980. The EMTs and paramedics who responded to the call were friends he knew through the UHP. While he was in the ambulance, the defibrillator would not work. As soon as they got Herb to the hospital and out of the ambulance, the defibrillator resumed working properly. He was meant to be taken at that time. I was born 6 months later, so I never knew my grandpa. My mom is sure that my younger sister must have known him in heaven, as she has some of his personality quirks.
Today I'll be remembering my grandpa and all the others who have served or are now serving our country. Thank you for your sacrifices.