Today is the last day of Nablopomo! I made it!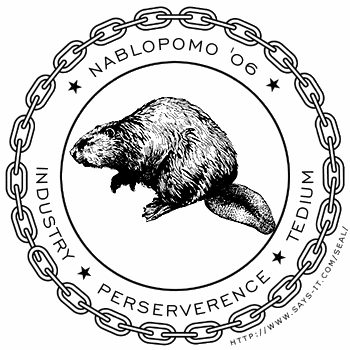 I was pretty much out of things to say, but I finally thought of something. Did you know I'm growing my hair out? My hair has been almost to waist length (when blow-dried straight) before. I
really
liked how it looked when it was short (not in the next picture, but the one after that), but only on the good days! If you have a bad hair day with short hair, too bad! If you're not working in a "professional" environment, you could use a bandanna or something, but if you are - too bad for you! There are many other reasons I want long hair.
Here's a picture from October 2003: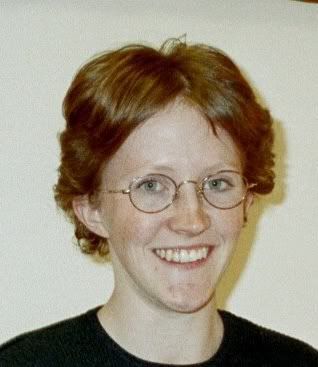 I was pregnant with Collin here. After this I grew it past my shoulders, and then had a dramatic chop. If I'm not mistaken, I was trying to copy
Kerflop
's old hairstyle. I neglected to remember that her hair is straight and mine is super-curly. Anyway. I maintained it somewhere close to the length in the next picture for quite a while.
So here's how I started out November 2005: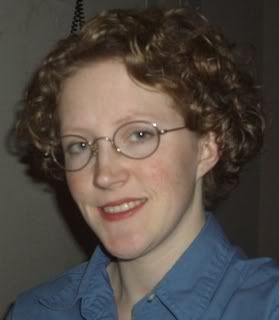 This is a pretty good hair day. Due to the tightness of the curl, I must have either used a lot of gel, or only diffused it a tiny bit and let it air dry the rest of the way. Remembering how much I liked it at this length, I'm wondering if I made a mistake by growing it. But not really.
Here I am now (I will spare you the hundreds of interim pictures):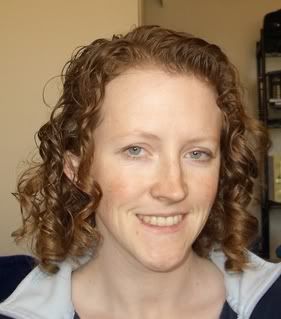 This was an experiment. I got out of the shower and let it dry without touching it AT ALL.
I don't like the crunchiness of the aloe vera gel I have been using, so I wanted to see if it was possible for my hair to look decent with no product. As you can see, it looked fairly decent, in terms of not poofing out all over the place, but this picture was taken before it had been touched by human hands. It was a little "stiff" at the hairline, so I wanted to soften it up a bit. As soon as I touched it we were back to the poofiness. But this gives you a good idea of the length.
If I had done anything to speed the drying along (blotting with towel, drying in towel, finger combing), it would look a little longer because the curls would have stretched a bit.
It's going to take me pretty much forever to get to waist length! I have an average growth rate (1/2-inch per month), but a lot of the length is taken up by curl. Measuring from the hairline, over the top of the head, and down to the tips, my hair is 20.5" stretched out (dry) and 16" un-stretched (dry). I'm going for ultra-long hair, which means I can't abuse it any more by blow-frying it straight, or worse, flat ironing it. I may blowfry it on cool/low heat once every few months just to see how long it is straight, but I'm not sure if it's worth the damage I might get from the brush :-P