My Halloween story starts a few weeks ago. I admired my mom's new shoes: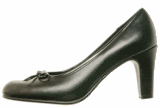 I went to get the same style at
Payless
and I saw these cool boots: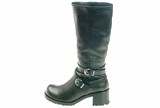 I knew I couldn't blow $30 on them because when would I wear them? I would wear plain black boots to church, but not with those buckles and straps! I figured I could wear them under jeans, but I don't have any jeans that fit, so that wouldn't be too often. I could wear them with my knee-length black & gray plaid wool skirt, but that would seem a little too provocative for me (I'm super-conservative). I could wear them under my calf-length black/gray dress, but that would look dorky (my usual fashion style). So I passed on the boots.
When we went grocery shopping last week, we saw toy light sabers. I bought one for each boy. At work they had announced that everyone could wear costumes. I asked a trusted secretary if anyone really dresses up, and she confirmed that they did. Most of the engineers don't dress up, but a lot of others do. I figured I'd do it. I'm the only female engineer there, so I can make my own standards anyway. I realized that if I went as a Jedi, I could get the boots! So I dressed up as Padawan Katie-Gon Jinn. I do love all 6 Star Wars movies, although I'm nothing like some of the super-fans you'll see out there.
I got some cheap fabric at Wal-Mart and used directions from the internet to sew a Jedi cloak/robe and tunic. I put my hair back and added a padawan braid. I would rather call myself "Jedi Knight" or "Jedi Master", but I really wanted the braid, so Padawan it was. I also made Jedi cloaks for BigGuy and LittleMan. Given my level of sewing training (7th grade Home Ec.), I think I did an awesome job! I won't bore you with pictures of my seams, but I actually managed to make these costumes look somewhat decent. They'll last a long time, and the cloaks will be great for the kids to play dress-up in all year - they can dress up as any number of things.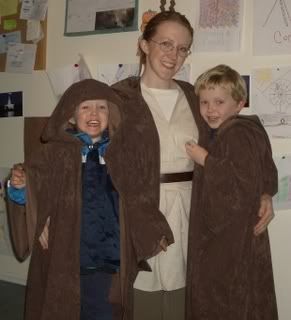 In the Princess Bride, in reference to his mask, Westley says "they're terribly comfortable. I think everyone will be wearing them in the future." I think the same applies to Jedi cloaks! I may fall deeply into Star Wars dorkdom if it means I get to wear my cloak more often. It feels like I'm wearing a big cozy robe, and I thought I looked imposing and authoritative when I walked quickly, the cloak billowing out behind me and sweeping along. Well, I guess I looked imposing when I wasn't tripping up the stairs over the cloak. I also now understand why Jedi eat food out of little capsules instead of cooking it - those big sleeves are a fire hazard!
I figured I'd make the most of the day and put my makeup on extra thick and heavy. In fact, it was so heavy that a casual observer could almost see it if they looked hard! (I guess I'm pretty conservative in the makeup category too.)

LittleMan ended up looking more like a fat ghost or chocolate chip or something since he had his fluffy winter coat on under his cloak. BigDaddy stayed home to "help clean" so we went without him. We drove up to our main ward area and parked. We went to 6 houses and then the kids wanted to go home. The lots in our ward are so huge that trick-or-treating is somewhat inefficient! The kids got about 10 pieces of candy each, which was just perfect. To confirm his party-pooper status, dh turned off the porch light while we were out. So we are left with a big bowl full of non-optimal Halloween candy. I found out that you have to go shopping BEFORE 7 pm on Halloween night to get the good stuff. Who would've known?