Lately I've felt like I've been carrying the weight of the world on my shoulders. Then I realized it was just all the stuff in my coat.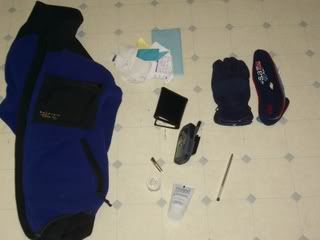 My coat was "donated" by my husband. It's an outdoorsy-looking Mountain Hard Wear fleece jacket that is much too big for me. The items in the picture are receipts/papers/birthday card, my ultra-feminine men's wallet, a pair of gloves, a SLC 2002 Olympic headband, my cell phone, a duck-bill hair clip, lip balm, lotion, & a pen.
What's in your coat?